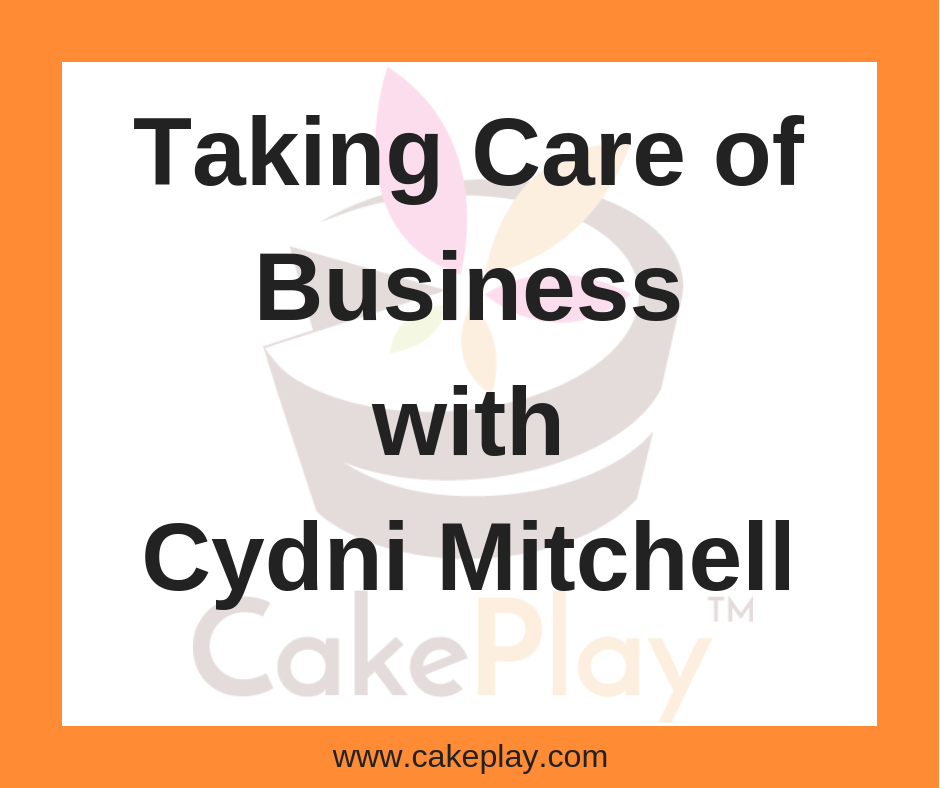 Many creatives are very good at what they do.  In pastry and sugar art world there is a great pool of individuals who make sure that their products both look and taste amazing.  Yet these same creatives struggle to turn it into a profitable business.
This can be for many reasons.  Many are so dedicated in the perfecting of their craft that it is hard to put the time into learning business techniques as well.  Marketing strategies change very quickly in our technological world and can be hard to stay on top of.  Sometimes, it is just not knowing where to start.
Enter Cydni Mitchell.
Her superpower is getting the left brain and the right brain to cooperate with each other. This is evident in her business philosophy-   that there "must be a balance between a delicious product & a solid business/marketing strategy. No sweet business will be successful without having both in place."  She works very hard at that that through her many portals to the sugar world.
But why should anyone pay attention to Ms. Mitchell?
Pedigree and Experience
The woman has credentials!
She has a master's degree in business
She has worked as an accountant and financial analyst for fortune 500 companies and the prestigious accounting firm, Price Waterhouse
She is a web and graphic designer
In addition to that impressive list, she has taken her passion for helping small businesses and her love of sweets and parlayed it into a multi-faceted business dedicated solely to the sweets industry.  As she helps other's business grow, so does hers as she continues to layer guidance and support to all the facets that are unique to the field.
What She Has to Offer
One on One Coaching
If you go to thesweetfest.com you will find opportunities for one on one coaching with Cyd.
She can help with:
Logo/Graphic Design Consultation
Business Coaching
Website/Social Media review
Pricing Assessment and review
Classes
Cyd has many business classes available for purchase at the sweetfest.com.  They vary from promoting and pricing to website development. 
She offers more in depth classes through her Sugar Coins Academy.  She also collaborates with Chef Amanda Schonberg to address both sides of the business.  While she offers many classes to anyone, if you become a paid subscriber (for a reasonably low price), you have exclusive access to training multiple times per week.
Exclusive access training includes:
Weekly marketing training
Weekly tech training
Weekly "Business Term of the Week"
Weekly "Wine down Wednesday"
Business Transformation Training
Monthly members-only recipes
The membership also includes access to an accountability conference call, member discounts, and free gifts.
Community and Networking
You can join the Facebook Group Cyd heads up– Sweet Success Project- to gather info and help you find your "tribe".
Or you can attend The Ultimate Sugar Show, where as director, Cyd has set up an extensive immersive convention to bring all facets of the sugar world together in one place.
Fun Stuff
Cydni also offers fun T-shirts and bags at thesweetfest.com
Cyd's Business Advice
For Newbies
If you are brand new in this business, Cyd recommends that you focus your business efforts on understanding your costs so that you can set your price to make a profit.
For Veterans
Cyd finds that the problem many seasoned business owners face is not being open to change.  Many have an "if it ain't broke don't fix it" attitude, leading to complacency on designs, not adding to their customer base, and not staying on top of trends.   She suggests being open minded and educating yourself.
For Everyone
Treat your business like a business. Many people are passionate about what they do and take on jobs that make them lose money. Many don't value their work, so they don't charge enough and they lose money.   Many ignore the business policies they set up, clients violate them, and they lose money.  Business is about making money!  Set up business boundaries, stay firm and follow them, and stop losing money.
Pay attention to marketing and numbers. One part of the puzzle that many business owners are missing because they may not know what to look for is the marketing component and not monitoring their financial numbers.  You have to educate yourself on what kind of numbers you should be looking for so that you can adjust for profit.  You should also be monitoring them regularly so you can make corrections as necessary.
Attend to your real life presence more than your online presence.  Unless you are building an online business, you need to be spending more time doing local networking and being in front of your community.  If you were to break it down into percentages, 70% of your networking time should be focused on local real life and 30% should be on line.
Develop key qualities to be successful.  Cyd believes that those who succeed are 1) Empathetic, which makes them great in the customer service industry but better are those using it to find a balance between business and compassion. 2) NOT pushovers, they stand strong in their decisions.  3) Open to feedback, and they use the feedback to improve their journey toward their goals.
The most important business trend is 2019 is video marketing. Media consumption is changing.  Video is rising in leaps and bounds.  Not only are people more attracted to it, it is being included in social media algorithms to increase views.
Where to find Cyd
Online
Please look Cydni up online:
http://www.facebook.com/groups/sweetsuccessproject/?ref=bookmarks 
http://www.learn.thesweetfest.com/
http://www.instagram.com/sweet_fest/
In Person
If you would like to meet Cydni  in person can find her at these upcoming events:
http://www.ultimatesugarshow.com/ 
https://www.soflocakeandcandyexpo.com/
[Note from Peggy- I was in no way compensated for this article.  I believe in the work that Cydni is doing and find her a great asset to the sugar community.  I wanted to spread the word to all those who are struggling with their businesses.]
---