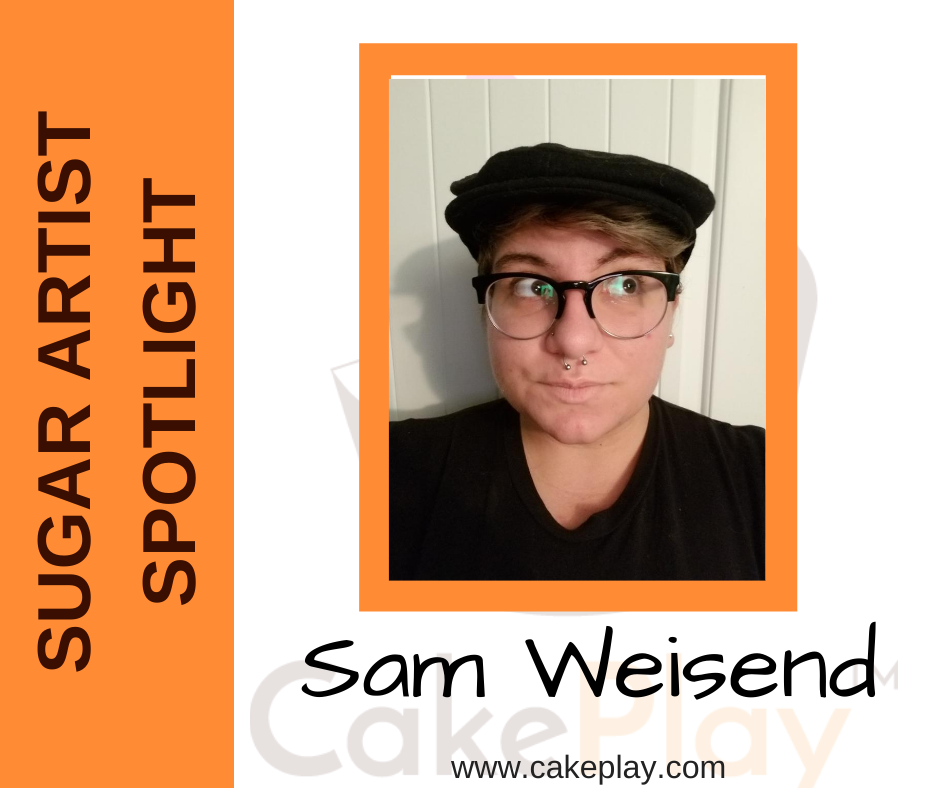 This month our Spotlight is a little different.  We are tying it in with our earlier blog post, When Quitting Doesn't Mean Failure.  We are featuring an award-winning sugar artist who is now an award-winning mixed media artist.
Sam Weisend started competing in cake competitions when she was 9.  She won many awards, including a live competition as a teenager.  She worked for The Grand Finale, a custom cake boutique, all throughout high school and college.  She was also an assistant to the directors of The Art of the Cake show. 
In college, Sam branched out creatively and got a B.A. Studio Arts degree where she fell in love with most art forms, especially painting and printmaking. Her senior honors show was entitled "Quiet" and studied the difference between introversion vs. extroversion.
In 2018, Sam launched her art business, Seraphs & Salt Studio.  In 2019 she joined forces with her mom, Anna, and the two of them now work together as collaborative mixed media artists.  They are on a journey to create beauty out of remnants and imagination.  They find a lot of potential in things that people discard and they are inspired by the perfectly imperfect.  They are working on two different series of work at this time, one that involves nests and one that involves hives. 
They currently have two Etsy stores.  The original Seraphs & Salt site is where you can find their artwork and decorative paper bowls.  They could not ignore their fun side so their second site, ReAmused ( a playful division of Seraphs & Salt Studio), features upcycled handbound gameboard journals, notebooks, and other fun items made with game pieces.
Please stop by their Etsy stores: 
www.etsy.com/shop/seraphsandsaltstudio
Or follow them on social media:
***they will be having give-aways for their followers in October***
Facebook: Seraphs & Salt Studio
Instagram: @seraphsandsaltstudio
Please enjoy some of Sam's art below!
[Editor's note:  For the readers paying attention, the editor and author of this blog post is Sam's mom.  Normally this article would be looked at as a bit of nepotism or a conflict of interest but Peggy Tucker, the owner of CakePlay Inc. insisted. You don't say no to Peg. So I complied.]
Seraphs & Salt Studio
ReAmused
---