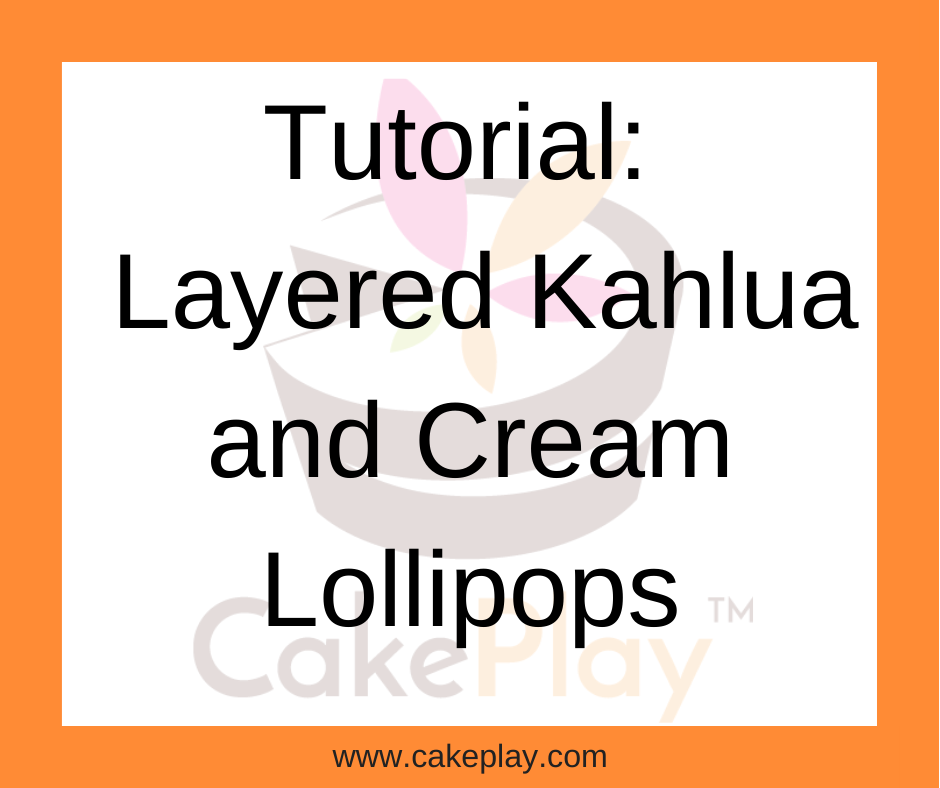 Do you need a gift for an adult- or for the kid inside the adult?  Perhaps an event and are looking for something a little less serious and a bit more fun? Maybe you want to create  something a little bit custom but easy? These layered Kahlua and Cream Lollipops will fit the bill.
These are super quick to make and even quicker to bring a smile to someone's face.
Gather the necessary ingredients and equipment (this is enough to make 12-18 lollipops):
2- 12 cavity  1-1 1/4" round silicone sucker molds
18- 4" sucker sticks (we used white sticks but these would look really sharp with the wooden ball end sticks)
¼ lb (or 114 g.) CakePlay Inc clear isomalt nibs
¼ lb ( or 114 g.)CakePlay Inc white isomalt nibs (or color your clear with titanium white)
72 drops (or 1 1/8 teaspoon or 6 milliliters) Kahulua Candy Flavoring (we use LorAnn oils)
36 drops (or 5/8 teaspoon or 3 mililliters) Bavarian Cream Flavoring (again, LorAnn)
Ivory Airbrush color (we used Americolor)
2 Tablespoons Cocoa Nibs
Heatproof measuring cup with a spout
Small silicone high heat spatula
Gloves (Let's practice safe sugar!)
Microwave
Kitchen Torch
Silicone mat
Prep Work Area
Place mold on the silicone mat.  This will make for a much easier clean up later on.
Have all ingredients and tools nearby.
Make Cream Layer
Melt White CakePlay Inc Isomalt nibs in your measuring cup in the microwave until melted and boiling.  Remove from microwave.  When most bubbles have subsided, add Bavarian Cream flavoring and stir.  You will probably hear a sizzle.  Stir completely.
Pour into molds only up to the line where the stick goes in.  Fill as many molds as you can.  Let cool completely.
Make Kahlua Layer
Melt Clear CakePlay Inc Isomalt nibs in your measuring cup in the microwave until melted and boiling.  Remove from microwave.  When most bubbles have subsided, add Kahlua flavoring and airbrush color and stir well.  The amount of airbrush coloring you use depends on how dark you want your Kahlua layer to be.  Please keep in mind that there is an opaque white underneath the dark color so it will appear lighter than in your measuring cup.
Working quickly, fill the remainder of your molds with the Kahlua flavored isomalt.  Insert your sticks, and as you do, turn the sticks in the mold until the inserted portion of the stick is completely submerged in isomalt. 
If you have air bubbles, you can lightly "kiss"  the surface of the lollipops with a kitchen torch to release the bubbles.
Garnish
While your lollipops are still warm,  push 3-5 cocoa nibs carefully into the edge of the lollipops.  Cool completely.
The cocoa nibs not only add a little something to make them look more posh, but they also add a slight coffee-like bitterness to the otherwise sweet candy.  This provides a little bit of contrast to heighten the taste of the Kahlua.
Unmold
When completely cool, just gently peel back the silicone and pop out the lollipops.
Wrap or Arrange
When unmolded, you can wrap individually in appropriately sized cellophane or plastic bags.  Alternately, you can fill a bowl or vase or other attractive vessel with granulated sugar and arrange the suckers in the vase.  The sugar will hold them in place.
Cheers!
---