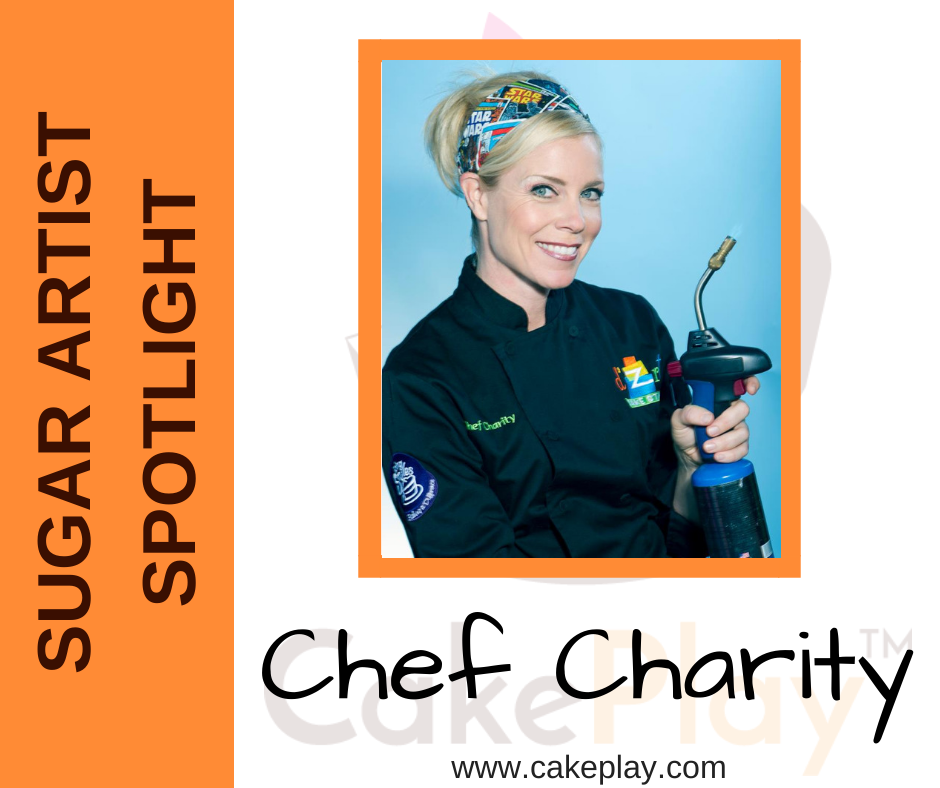 Chef Charity is a Pastry Chef and Cake Artist in San Diego, CA. She specializes in chocolate and sugar art particularly with regards to wedding, specialty, and extreme cakes. She has also specialized in baking and cooking for those with food allergies and sensitivities, which she terms "Free Baking". Charity owns d'Zrt Cake Studio in La Mesa, CA.

Charity is also President of the Board of Directors for Icing Smiles. Icing Smiles is a non-profit organization that provides custom celebration cakes and other treats to families impacted by the critical illness or medical crisis of a child. As a medical mom (2 of her 3 children have medical challenges, Leukemia, RA & Chrone's disease) and a cake artist, Chef Charity is an excellent fit as a member of the board for Icing Smiles. www.icingsmiles.org

Although she's had a 30+ year career in food, for the last 12 years she has worked exclusively with cakes, pastry, sugar, and chocolate. In March 2013 Craftsy (now bluprint.com) released its first Isomalt (sugar art) class, taught by Chef Charity. The educational site, YummyArts.com has a catalog of Chef Charity's classes. She's also a judge at numerous cake shows/contests and teaches sugar and cake arts across the country.

With regards to food television; Charity's been a contestant on TLC's Ultimate Cake Off twice in season 2, was featured on TLC's Fabulous Cakes and the Niecy Nash Wedding Bash. On Food Network Charity has appeared on Cake Wars and Halloween Wars (season 2, 5 & 7). She was then a special guest Chocolatier on the Valentines episode of Cake Wars in 2016. The pilot episode of Caketastrophe was based on an Icing Smiles story, and Charity was also a part of that show. Most recently, Charity is the "Secret Chef" aka Cake Artist and Food Stylist for the entire Nailed it! series (Mexico included) on Netflix which originally released early 2018.
Chef Charity can be found at www.chefcharity.com, on Facebook (Chef Charity), Instagram (sugarcharity), Twitter (@eatszrt1st), Pinterest (WWofSugar), and YouTube (Chef Charity channel).
Please take in a few samples of her beautiful work! 
---